"It made my projects look like a game, easy to use, creating a user friendly environment which results to nice looking designs. Our clients have appreciated the way their designs come to 3D presentations. I would highly recommend it to any professional in Logistics and Warehouse design."
Konstantinos Chrysikopoulos, Owner & Senior Consultant
Warehouse Dynamic Components extension
The following video clips show some of the functions in the WarehouseBlueprint extension.
A set of components that is commonly seen in the warehouses, ranging from pallet racks to conveyors to mezzanine.
Instead of drawing from scratch or modifying existing components, users will be able to alter the dynamic components to the required specifications efficiently.
These functions will definitely aid you to speed up the entire warehouse layout modeling process.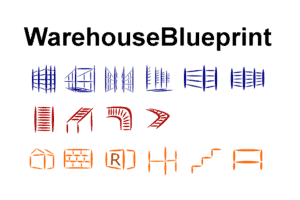 Contact us at [email protected] if you are interested in getting the full version of the Sketchup Plugin Extension.
"Clarity is the most important thing. I can compare clarity to pruning in gardening... If you are not clear, nothing is going to happen." -Diane Von Furstenberg
Interested in getting the below functions?
Selective Rack
One of the most common storage mediums in any typical warehouse.
Due to the size of the pallet, the common width of the bay is either 2.3 m or 2.7 m. Other width dimensions exist as well.
The levels per bay range from 5 to 7.
This dynamic component has the flexibility to change the required parameters.
Conveyor
Different warehouses have conveyor systems that come in different variation of shape and size.
With the 4 different icons, you have the ability to model any conveyor in the operations area.
Warehouse Building
For a quick turnaround within limited time period, you are able to model a simple warehouse by updating the length and width of the warehouse.
This will provide a 3D perspective of the size of the warehouse, and whether the required area is sufficient to hold all the operations processes.
Mezzanine
Often, operations need to decide whether a mezzanine is justifiable as an investment for utilizing the airspace.
By modeling the existing warehouse, and inserting a proposed mezzanine, you will be able to visualize the effectiveness of the new component.
In order to model a warehouse design quickly and efficiently, the dynamic components extension is utilized.
The extension is a plugin for the SketchUp software which allows users to configure components instantaneously.
To achieve the above results, here are the steps you should take.
Installation of SketchUp here.
Go through the 5 free tutorials here.
Installation of dynamic components extension in SketchUp.
Model warehouse efficiently with Warehouse Dynamic Component extension.